This article is a stub. You can help Witcher Wiki by expanding it.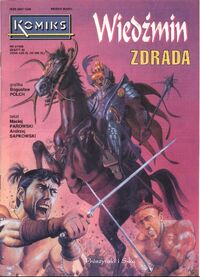 "Zdrada" (The Betrayal) is the 6th published The Witcher graphic novel (after "Granica możliwości") and the 2nd one in the order of internal chronology (after "Droga bez powrotu" and before "Geralt"), written by Maciej Parowski and illustrated by Bogusław Polch.
It is the only one of the Parowski/Polch series of comics not based on a short story by Andrzej Sapkowski, being based instead on a basic idea by Sapkowski, expanded by Parowski and Polch. It is set during Geralt's youth and his witcher training, and tells of the betrayal by the Cat School of witchers that led to the massacre during the tournament.
Characters
Edit
Ad blocker interference detected!
Wikia is a free-to-use site that makes money from advertising. We have a modified experience for viewers using ad blockers

Wikia is not accessible if you've made further modifications. Remove the custom ad blocker rule(s) and the page will load as expected.