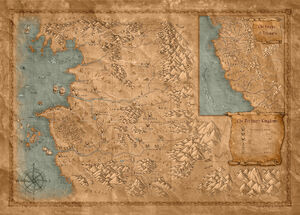 The world maps provided with the original game and sequel and on this site was based on a very good, but imperfect fan-created map. This hand drawn map (mapa świata, in Polish) was then used by CD Projekt to create the lovely image provided but the errors were transcribed onto the final image. In particular, there are known errors in the north and with some battle sites.
Known map errors
Edit
Geographic borders
Edit
A discussion of the exact geographic borders and other locations can be found on this page.
Other maps
Edit
Ortelius (Polish) maps:
Ad blocker interference detected!
Wikia is a free-to-use site that makes money from advertising. We have a modified experience for viewers using ad blockers

Wikia is not accessible if you've made further modifications. Remove the custom ad blocker rule(s) and the page will load as expected.