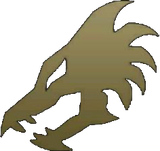 A bestiary is usually a volume containing information on different creatures, either living or mythical, depending on the focus of the treatise. In The Witcher 3, and its expansions Hearts of Stone and Blood and Wine, there are many beasts to discover and slay in your adventures as Geralt, and as you come across new creatures all of the information you know about them is entered into this book. Information about creatures' weaknesses can be found out by simply finding and engaging the monster or by reading certain books. Be aware that all animals and beasts Geralt kills have an actual scent that attracts other monsters in the area.[1]
Cursed Ones
Edit
Draconids
Edit
Elementals
Edit
Insectoids
Edit
Necrophages
Edit
Notes & references
Edit
Ad blocker interference detected!
Wikia is a free-to-use site that makes money from advertising. We have a modified experience for viewers using ad blockers

Wikia is not accessible if you've made further modifications. Remove the custom ad blocker rule(s) and the page will load as expected.