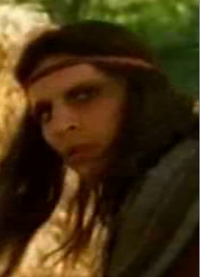 Vanadáin is an elf of Blue Mountains and Dol Blathanna.
He appeared in the short story The Edge of the World, playing Dandelion's lute, wearing a jacket decorated with feathers.
"... the tall Seidhe who, not bothering to check Geralt's knots, was strumming away at Dandelion's lute with an expression of indifference on his long face."

— page 192, The Last Wish (UK edition)



In the episode 7 of The Hexer TV series, Dolina Kwiatów, based on the short story, Vanadáin appeared, too, strumming Dandelion's lute, but the name of the actor was not given.

This article is a stub. You can help Witcher Wiki by expanding it.
Ad blocker interference detected!
Wikia is a free-to-use site that makes money from advertising. We have a modified experience for viewers using ad blockers

Wikia is not accessible if you've made further modifications. Remove the custom ad blocker rule(s) and the page will load as expected.