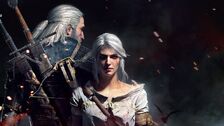 CD Projekt RED is drawing close to completing the long-awaited Heart of Stone expansion, which is due in October. That little tidbit was captured at PAX, which is happening in Seattle right now. During another panel, senior writer Jakub Szamalek mentioned that there is "some good news for Gwent players coming up". That presumably doesn't include a much-asked-for standalone edition of the game, as when asked about that Szamalek said he'd talk to his colleagues about it. No, this "good news" about Gwent must mean something else.

Source: http://www.pcgamer.com/witcher-3-expansion-is-coming-soon-and-so-is-good-news-about-gwent/
Ad blocker interference detected!
Wikia is a free-to-use site that makes money from advertising. We have a modified experience for viewers using ad blockers

Wikia is not accessible if you've made further modifications. Remove the custom ad blocker rule(s) and the page will load as expected.