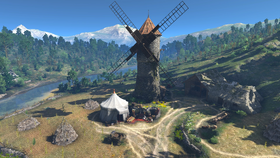 Upper Mill is a small village situated on the south bank of the river which runs east from Miller's Lake in eastern Gustfields. You can find camp of Ofieri´s there.
Map description
Edit
The local community held a raising bee to construct the new brick Upper Mill to replace the old wooden Lower Mill. Once finished, however, they decided closing a fully-functional mill just because there is a newer one would be a sinful waste, thus both mills remain in operation.
Associated quests
Edit
Ad blocker interference detected!
Wikia is a free-to-use site that makes money from advertising. We have a modified experience for viewers using ad blockers

Wikia is not accessible if you've made further modifications. Remove the custom ad blocker rule(s) and the page will load as expected.