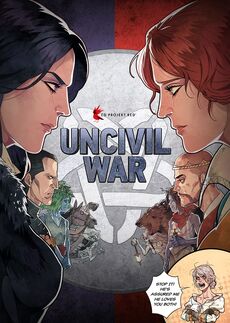 Uncivil War is second of small and short graphic strips realised by CD Projekt RED written by studio and illustrated by Polapaz-IsisT. It was published during 25 April 2016. It was preceded by Skellige Most Wanted and followed by Roach Revealed.
Whose side are you on?  #TeamYen or #TeamTriss? Here's the second comic in a series we're doing together with Polapaz-IsisT. [1]
Contributes
Edit
Polapaz-IsisT (artist from Taiwan)
Translations
Edit
This comics strip is reference to Captain America: Civil War movie.
Notes & references
Edit
Ad blocker interference detected!
Wikia is a free-to-use site that makes money from advertising. We have a modified experience for viewers using ad blockers

Wikia is not accessible if you've made further modifications. Remove the custom ad blocker rule(s) and the page will load as expected.