Infobox Needed
This article or section needs an infobox template added.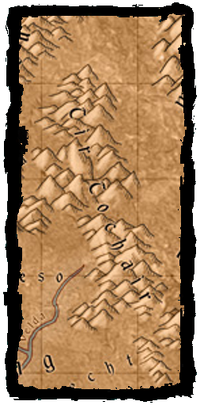 Tir Tochair
is a range of mountains that forms the eastern border of
Metinna
,
Geso
,
Ebbing
and
Maecht
. Behind the Tir Tochair massif lies the
Korath desert
. Farther east are the
Fiery Mountains
, with the
Amell
range to the north. The
Sylte
,
Velda
,
[1]
and
Alba
rivers may have their sources in Tir Tochair.
Tir Tochair is also inhabited by Gnomes,[2] known to be excellent smiths and metallurgists, mastering the trade of weaponsmithing.
References
Edit