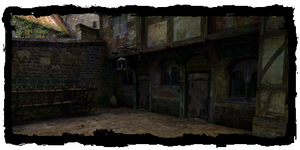 The thug's house is located in the slums of the Temple Quarter, just opposite the warehouse where Vincent carries out his "sting operation" on the local Salamandra. It is here that Geralt meets a thug who proposes to split some unspecified treasure with the witcher, in return for some help clearing out a "haunted house".
Associated quests
Edit
Ad blocker interference detected!
Wikia is a free-to-use site that makes money from advertising. We have a modified experience for viewers using ad blockers

Wikia is not accessible if you've made further modifications. Remove the custom ad blocker rule(s) and the page will load as expected.