Ad blocker interference detected!
Wikia is a free-to-use site that makes money from advertising. We have a modified experience for viewers using ad blockers

Wikia is not accessible if you've made further modifications. Remove the custom ad blocker rule(s) and the page will load as expected.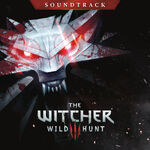 The soundtrack for The Witcher 3: Wild Hunt computer game was composed by Marcin Przybyłowicz, Mikolai Stroinski and Percival. The soundtrack CD is included with the game as well as through download on GOG.com. It consists of 35 tracks with the total running time of approximately 81 minutes and 7 seconds.
List of tracks
Edit
| No | Name | Composer | Length |
| --- | --- | --- | --- |
| 1 | The Trail | Marcin Przybyłowicz | 2:50 |
| 2 | Geralt of Rivia | Marcin Przybyłowicz | 2:22 |
| 3 | Eredin, King of the Hunt | Marcin Przybyłowicz | 2:28 |
| 4 | Wake Up, Ciri | Mikolai Stroinski | 1:34 |
| 5 | Aen Seidhe | Mikolai Stroinski | 2:36 |
| 6 | Commanding the Fury | Mikolai Stroinski | 2:08 |
| 7 | Emhyr var Emreis | Marcin Przybyłowicz | 2:30 |
| 8 | Spikeroog | Mikolai Stroinski | 3:06 |
| 9 | King Bran's Final Voyage | Marcin Przybyłowicz | 2:12 |
| 10 | Silver for Monsters... | Percival & Marcin Przybyłowicz | 2:20 |
| 11 | Whispers of Oxenfurt | Mikolai Stroinski | 2:35 |
| 12 | The Nightingale | Percival | 1:40 |
| 13 | City of Intrigues | Mikolai Stroinski | 2:06 |
| 14 | The Hunter's Path | Marcin Przybyłowicz | 2:52 |
| 15 | Widow-maker | Mikolai Stroinski | 2:10 |
| 16 | Kaer Morhen | Marcin Przybyłowicz | 2:35 |
| 17 | Eyes of the Wolf | Mikolai Stroinski | 2:04 |
| 18 | Witch Hunters | Mikolai Stroinski | 2:40 |
| 19 | ...Steel for Humans | Percival & Marcin Przybyłowicz | 1:27 |
| 20 | Fate Calls | Mikolai Stroinski | 1:58 |
| 21 | The Vagabond | Marcin Przybyłowicz | 2:48 |
| 22 | Cloak and Dagger | Percival | 2:46 |
| 23 | Forged in Fire | Mikolai Stroinski | 2:04 |
| 24 | Yes, I Do... | Mikolai Stroinski | 1:34 |
| 25 | Welcome, Imlerith | Mikolai Stroinski | 2:45 |
| 26 | Drink Up, There's More! | Percival | 1:36 |
| 27 | After the Storm | Mikolai Stroinski | 1:31 |
| 28 | Blood on the Cobblestones | Mikolai Stroinski | 2:02 |
| 29 | Farewell, Old Friend | Marcin Przybyłowicz | 2:53 |
| 30 | The Song of the Sword-Dancer | Percival & Marcin Przybyłowicz | 2:12 |
| 31 | The Hunt is Coming | Marcin Przybyłowicz | 2:06 |
| 32 | The Fields of Ard Skellig | Percival & Marcin Przybyłowicz | 3:09 |
| 33 | Ladies of the Woods | Percival & Marcin Przybyłowicz | 1:51 |
| 34 | Merchants of Novigrad | Percival & Marcin Przybyłowicz | 3:10 |
| 35 | Hunt Or Be Hunted | Marcin Przybyłowicz | 2:25 |