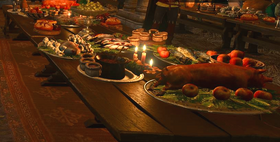 Food and drink are used to regenerate health in The Witcher 3. Each item is linked to an ability that defines the magnitude and duration of the effect. There are three quality tiers for food and another 3 for drink.
It is possible to consume one food and one drink, in order to receive the benefits from both at the same time. Consuming multiple beverages or food items won't stack (i.e. only the last consumed food or beverage effect will take place).
List of food items
Edit
List of drink items
Edit
Originally, food items had weight, but this was later changed.
See also
Edit
Ad blocker interference detected!
Wikia is a free-to-use site that makes money from advertising. We have a modified experience for viewers using ad blockers

Wikia is not accessible if you've made further modifications. Remove the custom ad blocker rule(s) and the page will load as expected.