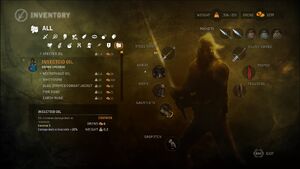 The look of the inventory panel has changed in The Witcher 2: Assassins of Kings. In the upper right-hand corner of the panel is an overview of the amount of weight Geralt is currently carrying, compared to the maximum amount that he can carry, and the amount of orens he currently possesses.
On the left side of the panel is a scrolling list of items currently in Geralt's inventory. The description of the currently selected item on the list is displayed at the bottom of the list. This list can be shortened by selecting only items of a particular type, or a full list. After an update, buttons have been added to sort the inventory by alphabet, by the time the item was picked up, by the weight and by the value of items. The types of items include:
On the right side of the panel is an image of Geralt, surrounded by the available slots in his inventory. Clicking on any of the items in these slots will display a description of it on the bottom right of the panel. The slots include, to the left of Geralt:
To the right of Geralt:
Pockets (or quickslots), for bombs and ranged weapons
Ad blocker interference detected!
Wikia is a free-to-use site that makes money from advertising. We have a modified experience for viewers using ad blockers

Wikia is not accessible if you've made further modifications. Remove the custom ad blocker rule(s) and the page will load as expected.