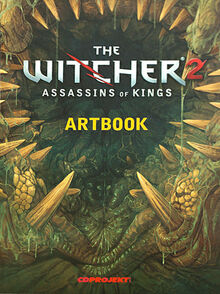 The Witcher 2: Assassins of Kings Enhanced Edition Artbook is book containing of 231 pages from design of characters, weapons, armors, bestiary and other such concepts from development in between 2009-2011. It was enclosed with a number of editions of the The Witcher 2: Assassins of Kings.
WORLD MAP
PROLOGUE
ACT I
ACT II
ACT III
ARENA
PLACEABLES
CHARACTERS
MONSTERS
FLASHBACKS
INTRO
PAPERCRAFTS
COVER ARTS
OUTRO
Ad blocker interference detected!
Wikia is a free-to-use site that makes money from advertising. We have a modified experience for viewers using ad blockers

Wikia is not accessible if you've made further modifications. Remove the custom ad blocker rule(s) and the page will load as expected.