Ad blocker interference detected!
Wikia is a free-to-use site that makes money from advertising. We have a modified experience for viewers using ad blockers

Wikia is not accessible if you've made further modifications. Remove the custom ad blocker rule(s) and the page will load as expected.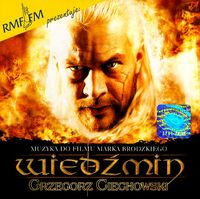 The Hexer (Wiedźmin, The Witcher) movie and TV series soundtrack was composed by Grzegorz Ciechowski and released on October 3, 2001. Songs were sung by Alicja DeRota Węgorzewska and Zbigniew Zamachowski, who portrayed the bard Dandelion in the movie. The promotional song "Nie pokonasz miłości" (You Won't Conquer Love) was sung by Robert Gawliński. Unlike the movie and series themselves, the music was well received by fans of Andrzej Sapkowski's books.
| No | Name | Length |
| --- | --- | --- |
| 01 | Wiedźmin (The Witcher) | 5:02 |
| 02 | Pocałunek Yennefer (Yennefer's Kiss) | 2:08 |
| 03 | Zew wilka (Call of the Wolf) | 2:55 |
| 04 | Pierwsza rada Jaskra (Dandelion's First Advice) | 0:48 |
| 05 | Oniria | 2:09 |
| 06 | Lawina (Avalanche) | 2:06 |
| 07 | Sen Yen (Yen's Dream) | 2:12 |
| 08 | Druga rada Jaskra (Dandelion's Second Advice) | 1:10 |
| 09 | Odnajdę cię Ciri (I'll Find You, Ciri) | 5:11 |
| 10 | Uciekajcie! (Run Away!) | 0:45 |
| 11 | Trzecia rada Jaskra (Dandelion's Third Advice) | 0:42 |
| 12 | Koniec z bandą Renfri (End of Renfri's Band) | 2:05 |
| 13 | Jak gwiazdy nad traktem (Like Stars over the Road) | 1:49 |
| 14 | Śmierć Renfri (Renfri's Death) | 0:45 |
| 15 | Bajka dla małej driady (A Fairy Tale for a Little Dryad) | 2:09 |
| 16 | Leczenie ran (Healing the Wounds) | 1:46 |
| 17 | Karczma w Blaviken (Inn in Blaviken) | 0:26 |
| 18 | Zapachniało jesienią (The Smell of Autumn) | 1:28 |
| 19 | Ballada dla Yen (A Ballad for Yen) | 1:04 |
| 20 | Czwarta rada Jaskra (Dandelion's Fourth Advice) | 2:06 |
| 21 | Ratuj, Wiedźminie! (Save me, Witcher!) | 3:25 |
| 22 | Nie pokonasz miłości (You Won't Conquer Love) | 3:40 |