One of several temples of Melitele is located in Vizima, capital of Temeria.
For some time after death her death, Adela was worshipped here as an incarnation of the Goddess.
The temple also appears in the first installment of trilogy. After local outbreak of Catriona plague, it have been converted into St. Lebioda's Hospital. To this day a triple-bodied statue of the goddess stands inside and place is under Order of the Flaming Rose's protection.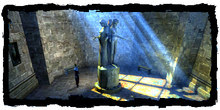 In Side Effects, a Temple of Melitele is located in the Temple Quarter of Vizima.
Ad blocker interference detected!
Wikia is a free-to-use site that makes money from advertising. We have a modified experience for viewers using ad blockers

Wikia is not accessible if you've made further modifications. Remove the custom ad blocker rule(s) and the page will load as expected.