The building — located at the head of a long, stone staircase — looked like a gigantic hedgehog, so overgrown was it by moss, ivy and bushes. Yennefer observed that not just bushes, but small trees, were growing on the roof.

- pg. 313, The Lady of the Lake (U.S. edition)
The
Temple of Freyja
is located on the island of
Hindarsfjall
, in the grove known as
Hindar
, in
Skellige
. The high priestess there is called Modron
Sigrdrifa
.
Inside, a towering statue of Modron Freyja, the Great Mother, dominated the view, and in her arms, the diamond, Brisingamen.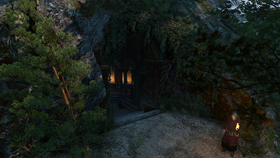 In third game
Freya's Temple
is located closely to
Freya's Garden
, a few priestesses and worshipers are located here but the interior is not available due to concerns about the possible theft of the famous diamond,
Brisingamen
, ornamenting the goddess' statue.
[1]
Its also said that it was
Otkell
, legendary forefather of both Skellige and
Clan Heymaey
, who erected a beautiful temple for her help.
[2]
Notable characters
Edit
Associated quests
Edit
References
Edit