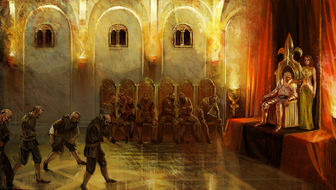 Temerian Royal Council a political institution in kingdom with seat in capital - Vizima. The Council main task is to prevent the war, maintain peace in state and if war is necessary than discuss how to win with best result.
Members during Foltest reign
Edit
During his rule the council was known as Foltest´s council.
Head of Council
Representatives from nobility
Representatives from mages
Representatives from clerics
Representatives from military
Members during Natalis interregnum
Edit
During rule of interrex John Natalis institution was renamed to Council of Regents.
Head of Council
Representatives from nobility
Representatives from mages
Representatives from clerics