Ad blocker interference detected!
Wikia is a free-to-use site that makes money from advertising. We have a modified experience for viewers using ad blockers

Wikia is not accessible if you've made further modifications. Remove the custom ad blocker rule(s) and the page will load as expected.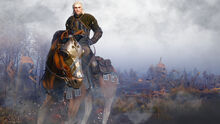 Reserved for the finest of warriors serving the kingdom of Temeria, the Temerian Armor Set includes a jacket, gloves, pants, boots and horse tack. Its one of the free DLCs for The Witcher 3: Wild Hunt that was released on June 3, 2015.
+15% Resistance to piercing damage
+15% Resistance to bludgeoning damage
+20% Resistance to slashing damage
+5% Resistance to damage from monsters
+5% Resistance to elemental damage
+5% Resistance to piercing damage
+5% Resistance to bludgeoning damage
+5% Resistance to slashing damage
+3% Resistance to damage from monsters
+3% Resistance to elemental damage
Temerian Boots
Edit
+3% Resistance to piercing damage
+3% Resistance to bludgeoning damage
+3% Resistance to slashing damage
+1% Resistance to damage from monsters
+1% Resistance to elemental damage

+2% Resistance to piercing damage
+2% Resistance to bludgeoning damage
+2% Resistance to slashing damage
+1% Resistance to damage from monsters
+1% Resistance to elemental damage