Svorlag is one of the two villages located on the island of Spikeroog. It is the home base of jarl Udalryk and his Clan Brokvar. A tavern can be found there.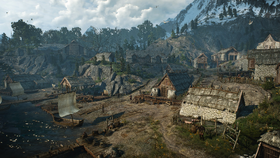 Map description
Edit
The village was founded by the mythical Sove, who killed a terrifying and bloodthirsty chimera on this spot.
Notable residents
Edit
Associated quests
Edit
Ad blocker interference detected!
Wikia is a free-to-use site that makes money from advertising. We have a modified experience for viewers using ad blockers

Wikia is not accessible if you've made further modifications. Remove the custom ad blocker rule(s) and the page will load as expected.