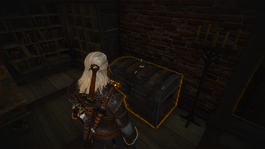 As of Patch 1.07 in The Witcher 3: Wild Hunt, stashes (storage chests) have been added to the game, enabling better management of loot and overencumbrance. They can be found in select locations of the multi-region open world. As in previous games, stashes allow the player to place items in one "stash" location and retrieve them from another.
Journal entry
Edit
You can store weapons, armor and junk in your stash for safekeeping, confident they will not be stolen or otherwise disappear.
Locations
Edit
Ad blocker interference detected!
Wikia is a free-to-use site that makes money from advertising. We have a modified experience for viewers using ad blockers

Wikia is not accessible if you've made further modifications. Remove the custom ad blocker rule(s) and the page will load as expected.