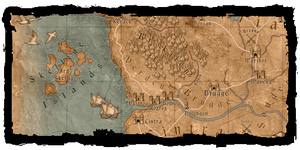 Spikeroog is one of the smaller islands of the Skellige archipelago. It lies to the west across the Allenker sound from the main islands of Ard Skellig and An Skellig. There are two villages: Svorlag and Hov.
The name "Spikeroog" is most likely inspired by the German North Sea island of Spiekeroog.
Ad blocker interference detected!
Wikia is a free-to-use site that makes money from advertising. We have a modified experience for viewers using ad blockers

Wikia is not accessible if you've made further modifications. Remove the custom ad blocker rule(s) and the page will load as expected.