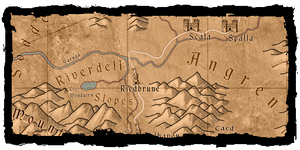 The Slopes, a region in the foothills of the Amell Mountains, are part of Sodden. To the east lies the valley of Dol Angra, and to the west, Loc Monduirn. It is about sixty miles to the south of Riverdell. The Slopes are famous for their vast forests and related industries as well as being the birthplace of the anti-Nilfgaardian movement known as Free Slopes.
Other geographical areas
Edit
Newi river and surrounding valley
Ad blocker interference detected!
Wikia is a free-to-use site that makes money from advertising. We have a modified experience for viewers using ad blockers

Wikia is not accessible if you've made further modifications. Remove the custom ad blocker rule(s) and the page will load as expected.