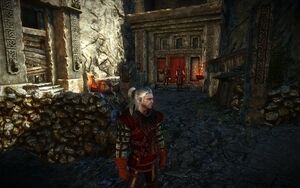 Saskia's quarters are located north of the center of Vergen. This is where she is taken after being poisoned and kept under elven guard. Only Philippa Eilhart has access, no one else can enter until the sorceress is ready to administer the antidote.
Ad blocker interference detected!
Wikia is a free-to-use site that makes money from advertising. We have a modified experience for viewers using ad blockers

Wikia is not accessible if you've made further modifications. Remove the custom ad blocker rule(s) and the page will load as expected.