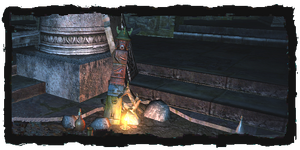 There are two santons in Murky Waters: one near the ruined bridge, attended by the mischievous, but friendly griggs and a second santon, which is attended by the less friendly variety of griggs who have taken up residence in the crypt in the fields.
Associated quests
Edit
Ad blocker interference detected!
Wikia is a free-to-use site that makes money from advertising. We have a modified experience for viewers using ad blockers

Wikia is not accessible if you've made further modifications. Remove the custom ad blocker rule(s) and the page will load as expected.