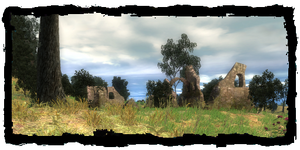 The ruins outside the village of Murky Waters are so old that only the foundation has survived the elements to this day. Despite this, something keeps the skeletal remains inside the stone walls from deteriorating.
Associated quests
Edit
Ad blocker interference detected!
Wikia is a free-to-use site that makes money from advertising. We have a modified experience for viewers using ad blockers

Wikia is not accessible if you've made further modifications. Remove the custom ad blocker rule(s) and the page will load as expected.