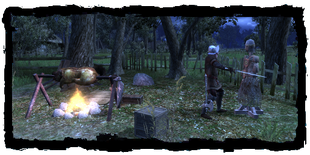 During Chapter I, the Royal huntsman can be found at his campsite, which is just east of the farming village on the way to the crossroads near the Inn in the Outskirts. It is here that you must return with any trophy heads.
Associated quests
Edit
Ad blocker interference detected!
Wikia is a free-to-use site that makes money from advertising. We have a modified experience for viewers using ad blockers

Wikia is not accessible if you've made further modifications. Remove the custom ad blocker rule(s) and the page will load as expected.