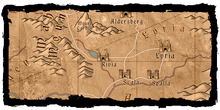 Rivia
is the capital of the Rivia dominion, which is in personal union with the state Kingdom of Lyria; both countries are ruled by the Queen
Meve
in novels and most of adaptations. Rivia is the winter residence of monarch, when he or she is in Rivian castle white and blue flags can be seen. The city is located in the west of the country, on lake
Loc Eskalott
, near the
Mahakam
mountains.
The castle is located to north while city to south of the lake. The city suffered a great deal of damage during the Second Nilfgaard War but not to the extent as Vengerberg in Aedirn. The financial situation was the cause of enriching the speculations and the spread of racism towards non-humans in this city, blamed for most of bad. Because of this and lot of other factors a terible Rivian Pogrom later takes place.
Notable Rivians
Edit
Landmarks
Edit
Queen Meve's castle
Army barracks and royal warehouses
Wiązowo - Non-human district, bounded by the lake, the castle, and the city walls.
Wirsing's tavern aka "The Witcher's Sword"
Market and Exchange
Ad blocker interference detected!
Wikia is a free-to-use site that makes money from advertising. We have a modified experience for viewers using ad blockers

Wikia is not accessible if you've made further modifications. Remove the custom ad blocker rule(s) and the page will load as expected.