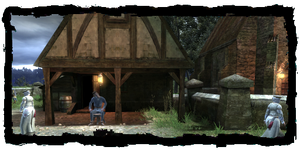 The Reverend's house is in the centre of town, next to the church in the Outskirts of Vizima. You can find the Reverend here if he is not tending to the grounds of the church or praying. It is also one of the places that Geralt can sleep for free in the Outskirts.
Associated quests
Edit
Containers found
Edit
Upper floor
In cellar
Ad blocker interference detected!
Wikia is a free-to-use site that makes money from advertising. We have a modified experience for viewers using ad blockers

Wikia is not accessible if you've made further modifications. Remove the custom ad blocker rule(s) and the page will load as expected.