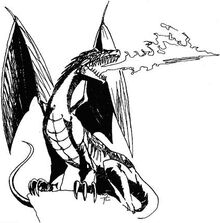 Red dragons are dragons with reddish coloured scales.
In the Wiedźmin: Gra Wyobraźni (The Witcher: A Game of Imagination) role-playing game, red dragons are stained reddish and live in mountain caves. They breathe fire hot enough to melt metal. On average, they reach a length of 15 meters.
Ad blocker interference detected!
Wikia is a free-to-use site that makes money from advertising. We have a modified experience for viewers using ad blockers

Wikia is not accessible if you've made further modifications. Remove the custom ad blocker rule(s) and the page will load as expected.