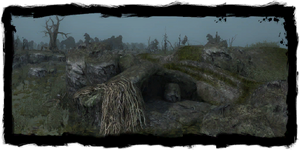 Raven's crypt is located in a cave east of Cemetery Island in the swamp cemetery. It is where a legendary witcher was apparently buried wearing his armor. Whatever treasures may lie within, they are well guarded by the creatures who have taken residence there. The place is crawling with bruxae, alps, wraiths, fleders, alghouls, cemetaurs, and a basilisk.
His actual tomb is in one of the deepest chambers of the crypt. The inscription on the open sarcophagus lid is still legible. It reads:
Here lies the witcher known as Raven — A great warrior and defender of the weak. Honored be his name.
There is also two circles of elements inside, the Circle of Rolling Rocks and the Circle of Inner Fire.
Associated quests
Edit
Ad blocker interference detected!
Wikia is a free-to-use site that makes money from advertising. We have a modified experience for viewers using ad blockers

Wikia is not accessible if you've made further modifications. Remove the custom ad blocker rule(s) and the page will load as expected.