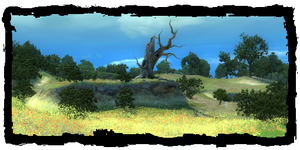 The raspberry patch is where Alina gathers raspberries at noon each day for her secret lover Adam. It is also the place she chooses to haunt after her untimely death. It is located in the fields outside the village of Murky Waters and its main feature is the "hanged man's tree".
Associated quests
Edit
Herbs and plants
Edit
Ad blocker interference detected!
Wikia is a free-to-use site that makes money from advertising. We have a modified experience for viewers using ad blockers

Wikia is not accessible if you've made further modifications. Remove the custom ad blocker rule(s) and the page will load as expected.