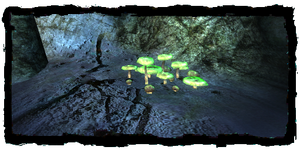 A rare hallucinogenic mushroom, favored by the hierophant of the Druids' grove.
This mushroom is a quest item required by the Hierophant in the Druids' grove as part of the Diplomacy and Hunting quest. It contains the special ingredient, Psilocybe, which can apparently be used to increase the potency of fisstech.
Associated quests
Edit
Ad blocker interference detected!
Wikia is a free-to-use site that makes money from advertising. We have a modified experience for viewers using ad blockers

Wikia is not accessible if you've made further modifications. Remove the custom ad blocker rule(s) and the page will load as expected.