Plegmund's Bridge is bridge between Castel Ravello Vineyard and Coronata Vineyard, named after Saint Plegmund.
Map description
Edit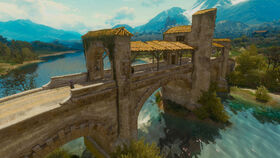 Built during the reign of Duchess Caroberta, this bridge was meant to facilitate traffic between vineyards on opposite banks of the Sansretour. It was named after a pilgrim quite popular in Toussaint at the time, a certain disciple of the Prophet Lebioda who on this very spot performed one of his many miracles: traversing the river without getting his feet wet.
Ad blocker interference detected!
Wikia is a free-to-use site that makes money from advertising. We have a modified experience for viewers using ad blockers

Wikia is not accessible if you've made further modifications. Remove the custom ad blocker rule(s) and the page will load as expected.