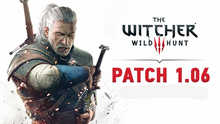 Patch for The Witcher 3.
Fixes the endless loading screen when fighting the Ice Giant during the quest 'Lord of Undvik'
Geralt's clothes will no longer be wet after leaving the menu
The gate in the crypt now works correctly during the quest 'Scavenger Hunt: Viper School Gear'
Fixes the lack of interaction with Roche on Oxenfurt Bridge in the quest 'Get Junior'
Fixes an issue that prevented players from creating more than one item via Crafting/Alchemy
Ad blocker interference detected!
Wikia is a free-to-use site that makes money from advertising. We have a modified experience for viewers using ad blockers

Wikia is not accessible if you've made further modifications. Remove the custom ad blocker rule(s) and the page will load as expected.