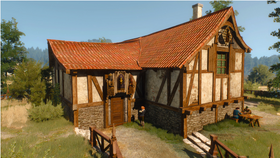 Oxenfurt Chess Club, one of the academics' pastimes — a society for the advancement of game where paupers and kings are on equal footing.
That is, until King Radovid V took an interest. Reports of him executing those that bettered him in a game are unsubstantiated and unlikable, though he does frequent this locale. [1]
Associated quests
Edit
Notes & refereneces
Edit
↑ The official Prima game guide
Ad blocker interference detected!
Wikia is a free-to-use site that makes money from advertising. We have a modified experience for viewers using ad blockers

Wikia is not accessible if you've made further modifications. Remove the custom ad blocker rule(s) and the page will load as expected.