Order of the Flaming Rose
Talk

4
4,219pages on
this wiki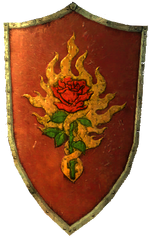 The Order of the Flaming Rose is a militant order whose mission is to protect Temerian society in The Witcher. They demand no payment for their services, raising the question of where their funding comes from. In Vizima they have taken over the responsibilities formerly held by the Special Forces. They also actively promote the cult of the Eternal Fire.
Heading the organization is its founder and Grand Master Jacques de Aldersberg, a man of whom people know very little prior to his involvement with the Order.
The Order of the Flaming Rose

"The Order of the Flaming Rose was established after the war with Nilfgaard by a charismatic leader, Jacques de Aldersberg, on the foundations of the deteriorating Order of the White Rose. De Aldersberg's aim was to protect the people from monsters and other evils, and to promote belief in the Eternal Fire. The Order's headquarters are located in Vizima, with numerous commanderies spread across the whole of Temeria.

The book "People of the Shadows" reveals some secrets regarding the genesis of the Order of the Flaming Rose. According to the author, the Order was established with the help of the Redanian intelligence service to counter the sorceresses, who were organizing themselves and growing in power. Furthermore, the author believes that Redanian intentionally refused to grant a charter to the main commandery of the Order, thus preventing a strong organization from planting roots within the country's borders.

According to the author of "The Aftermath of the War", the Order of the Flaming Rose is underestimated and treated too lightly. The Grand Master may be calculating and cunning, but he is above all a fanatic. Furthermore, the author believes that the Order aims to gain as much power over people's souls as possible. To achieve this, the Order wages secret wars with other clandestine organizations, such as the one founded by the sorceresses. The persecution of witches and freaks is but a prelude to the real attack, which will be directed against the sorceresses."
Affiliates
Edit
The Order once again appears. Geralt finds them camped outside of Loc Muinne as they support peace of the negotiation. The Order also takes part in "witch hunt".
Order's Path from the first game
Edit
With Siegfried of Denesle as Grand Master, the Order undergoes crucial reforms in their foundations and is now under Redanian protection.
Radovid V promised the Order land close to Roggeveen, where Siegfried wishes to build a stronghold - "Barienmurg".
Heraldry
Edit
Notable members
Edit
The Order of the Flaming Rose is an organization featured only in The Witcher and The Witcher 2: Assassins of Kings computer games. It does not appear in Andrzej Sapkowski's books.
One of the on-going battles in the original game is the question of Geralt's loyalties. He can choose to side with the Order, taking a stand against the Scoia'tael.
According to Siegfried, anyone can join the Order: a knight, a peasant, even a witcher.