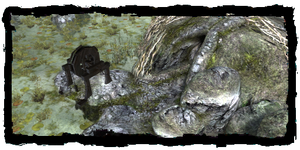 One of several caves in the game, the Old Mine in the swamp cemetery is where one of the ancient crypts is hidden. This is the crypt that Geralt must search if he chooses the Scoia'tael path as part of the Gnomish Device quest.
Associated quests
Edit

Ad blocker interference detected!
Wikia is a free-to-use site that makes money from advertising. We have a modified experience for viewers using ad blockers

Wikia is not accessible if you've made further modifications. Remove the custom ad blocker rule(s) and the page will load as expected.