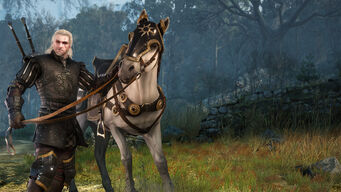 Nilfgaardian Armor set is the 5th of 16 free DLCs for The Witcher 3: Wild Hunt that was released on June 3, 2015. The DLC adds four armor items equippable from level 10 or above which can be bought from the quartermaster at Crow's Perch.
The set also includes 3 pieces for Roach: blinders, a saddle, and saddlebags.
Ad blocker interference detected!
Wikia is a free-to-use site that makes money from advertising. We have a modified experience for viewers using ad blockers

Wikia is not accessible if you've made further modifications. Remove the custom ad blocker rule(s) and the page will load as expected.