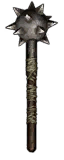 The morning star is a medieval weapon consisting of a spiked club resembling a mace, usually with a long spike extending straight from the top and many smaller spikes around the particle of the head. The spikes distinguish it from a mace, which can have, at most, flanges or small knobs. It was used by both infantry and cavalry; the horseman's weapon had a shorter shaft.
Ad blocker interference detected!
Wikia is a free-to-use site that makes money from advertising. We have a modified experience for viewers using ad blockers

Wikia is not accessible if you've made further modifications. Remove the custom ad blocker rule(s) and the page will load as expected.