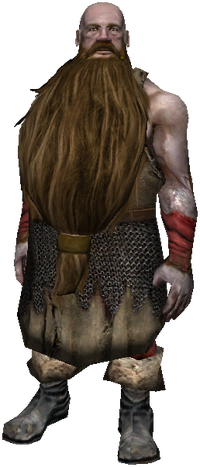 Merton Bringgs leads the band of mercenaries hired by Merwin and Sabrina to find Deidre. He is a reasonable individual but also fiercely principled. If the situation calls for it, he would not hesitate to carry out his orders, even if that means crossing blades with a witcher, after all, contracts are sacred! He is also a dwarf.
He and his band can be found around the campfire just west of the Camp. He is not adverse to a good game of dice, either.
Merton Bringgs is a dwarf who leads the mercenary unit providing security for Merwin Ademeyn and Sabrina Glevissig. He calls himself a rationalist and this seems true enough. Bringgs comes across as a thoroughly loyal and honest soldierly servant.
Associated quests
Edit
Ad blocker interference detected!
Wikia is a free-to-use site that makes money from advertising. We have a modified experience for viewers using ad blockers

Wikia is not accessible if you've made further modifications. Remove the custom ad blocker rule(s) and the page will load as expected.