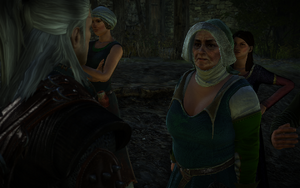 Matilda Szabo is a woman from Flotsam who is very concerned with the goings on at the local incense shop. She is convinced that Vilmos Bartok is selling some sort of drug and passing it off as incense, so she asks the Witcher to investigate.
Associated Quests
Edit
Ad blocker interference detected!
Wikia is a free-to-use site that makes money from advertising. We have a modified experience for viewers using ad blockers

Wikia is not accessible if you've made further modifications. Remove the custom ad blocker rule(s) and the page will load as expected.