Infobox Needed
This article or section needs an infobox template added.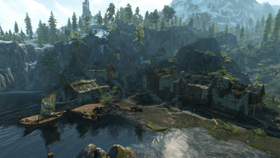 The Marlin Coast is a small abandoned settlement located on the northern shores of Undvik. It was later used as a makeshift camp by the Nilfgaardian Empire during their attack on the Skellige Isles.
Map description
Edit
Until quite recently this beach was frequented by fishermen come to fish marlins out of the nearby waters.
Associated quests
Edit