Manticore
Talk

0
4,219pages on
this wiki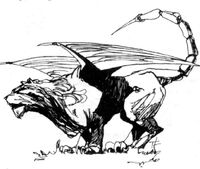 Manticore is a giant beast with the body of a lion, bat wings and scorpion tail. As a young witcher, Geralt fought a manticore. He also killed one during the Nilfgaard War, near the town of Dorian.
They are said to somehow use the poison of the Bohun Upas.
I looked for the words "Witcher urgently needed". And then there'd be a sacred site, a dungeon, necropolis or ruins, forest ravine or grotto hidden in the mountains, full of bones and stinking carcasses. Some creatures which lived to kill, out of hunger, for pleasure, or invoked by some sick will. A manticore, wyvern, fogler, aeschna, ilyocoris, chimera, leshy, vampire, ghoul, graveir, were-wolf, giant scorpion, striga, black annis, kikimora, vypper... so many I've killed.

— page 116, The Last Wish (UK edition)


— page 148, The Last Wish (US edition)



Siegfried relates the story of how his father, Eyck of Denesle, died fighting a manticore when he first meets Geralt in the sewers.
In The Witcher 2, Geralt recalls that he fought an imperial manticore in one of his flashbacks, while pursuing the Wild Hunt.
Manticore is a mythologic beast, with the body of a lion and the tail of a dragon or a scorpion. It can throw venomous spines to paralyze its prey.