"This is my story, not yours. You must let me finish telling it."
This article is a
stub
. You can help Witcher Wiki by
expanding it
.
Infobox Needed
This article or section needs an infobox template added.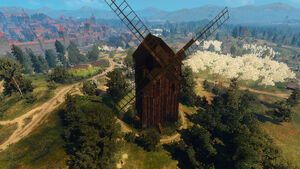 Lucian's Windmill is a landmark located south of Novigrad, just outside the Farcorners district.
Map description
Edit
Lucian le Foix, the famous Oxenfurt sculptor and architect, bought this windmill several years ago and made it into his country retreat. Sadly the enormous popularity of the great Lucian's designs means he spends little time in his fortress of solitude and has entrusted its care to a steward.