This article is a stub. You can help Witcher Wiki by expanding it.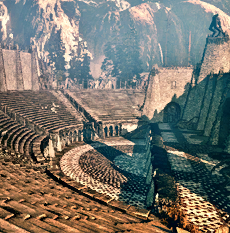 Loc Muinne Amphitheatre is a location in Loc Muinne in The Witcher 2: Assassins of Kings.
Associated Quests
Edit
Journal Entry
Edit
The amphitheatre in Loc Muinne was once the jewel of the city. Even stripped of its former trappings and ruined by time, it remained impressive. The elves had used it as a theatre, a venue where troubadours performed, perhaps even as an arena for gladiatorial combat. During the memorable events recounted herein, it served as the site for a summit of mages and monarchs.
Ad blocker interference detected!
Wikia is a free-to-use site that makes money from advertising. We have a modified experience for viewers using ad blockers

Wikia is not accessible if you've made further modifications. Remove the custom ad blocker rule(s) and the page will load as expected.