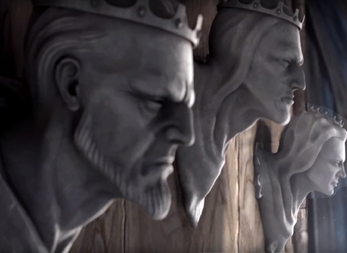 King or Queen of Temeria is the highest title in the Kingdom of Temeria, inherited from father to son/daughter, from mother to daughter/son.
This title was (except one hard time, during interregnum after Foltest died) held by representatives of one dynasty (Dezmodic and later its branch Dezmod-Maribori) called Temerian Royal Dynasty.
Known Kings of Temeria
Edit
Dynasty of Dezmodes
Dynasty of Mariborians
Dynasty of Sambuks
Known Queens of Temeria
Edit
References
Edit
↑ the king's name only appears in the third issue of Biały Wilk (The White Wolf) magazine, in Time of Contempt he is only referred to as "king moron".
↑ In Wiedźmin: Gra Wyobraźni only
↑ 3.0 3.1 in The Witcher game series
Ad blocker interference detected!
Wikia is a free-to-use site that makes money from advertising. We have a modified experience for viewers using ad blockers

Wikia is not accessible if you've made further modifications. Remove the custom ad blocker rule(s) and the page will load as expected.