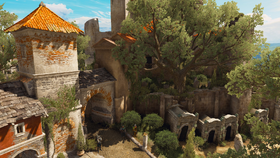 Temple Gate also known as Gate of Lebioda is the southern gate to Hauteville district of Beauclair near Orlémurs Cemetery.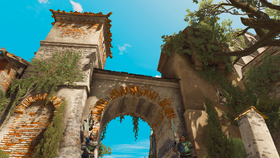 Map description
Edit
Work on the Temple of Lebioda in Beauclair was begun by the prophet's most famed disciple, Plegmund. He convinced Duchess Caroberta to rebuild that area of the city and dig deep catacombs for the city's wealthiest inhabitants. Those of less coin were to be buried in the new cemetery beside the temple. The poorest of the poor, however, had to continue to make do with the Orlémurs Cemetery, connected to the city by the Temple Gate, also known as the Gate of Lebioda.
Ad blocker interference detected!
Wikia is a free-to-use site that makes money from advertising. We have a modified experience for viewers using ad blockers

Wikia is not accessible if you've made further modifications. Remove the custom ad blocker rule(s) and the page will load as expected.