Infobox Needed
This article or section needs an infobox template added.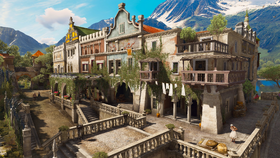 The Lassommoir is a quarter of working class within Hauteville district of Beauclair right behind the walls near Temple Gate. Poor townsfolk inhabiting this area are either engaged in nearby Temple Cemetery, helping in Port District as dockhands or as builders on estates of wealthiest Toussaintois.
Aside from large Lebioda's temple and two cemeteries there is also one tavern with dog on its sign, The Clever Clogs, belonging to Hugo and his two brothers.
Associated quests
Edit
The name comes from the French term assommoire which is an architectural term describing an opening by which city defenders could throw projectiles to knock out (assommer) their adveraries. It is also the name of a famous novel by Émile Zola about alcoholism and poverty in the working-class districts of Paris.