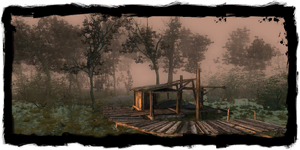 For a simple boat landing, it sure is a busy place. At any given time, you can find the Ferryman who provides the transportation service to and from the swamp, and the fisherman, who sells fish. Until Geralt fulfils The Wolf Contract, Jean-Pierre is there, and at the beginning of Chapter III, Carmen can be found there as well, although she does return to her usual post outside the Eager Thighs brothel later. Just up the road is the brickmakers' village, and to the west are the clay pits, where they make their bricks.
It is not only the place to catch the ferry back to Vizima, but you can stop and meditate at a lovely campfire.
Associate quests
Edit
Ad blocker interference detected!
Wikia is a free-to-use site that makes money from advertising. We have a modified experience for viewers using ad blockers

Wikia is not accessible if you've made further modifications. Remove the custom ad blocker rule(s) and the page will load as expected.