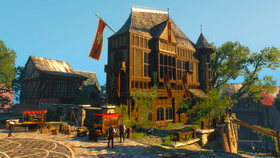 The Novigrad residence of the powerful la Valette family, and since start of Third Northern-Nilfgaard War a close ally of the Nilfgaardians, the Baroness Maria Louisa is said to be close friends with General Morvran Voorhis himself.
Notable residents
Edit
Associated quests
Edit
Ad blocker interference detected!
Wikia is a free-to-use site that makes money from advertising. We have a modified experience for viewers using ad blockers

Wikia is not accessible if you've made further modifications. Remove the custom ad blocker rule(s) and the page will load as expected.